PORCELAIN AVAILABLE FOR SALE
The following porcelain items are a sample of pieces available for purchase. More items can be found in the various Sub Gallery Pages.

Each thumb-nail image links to a page detailing more information and a larger illustration.
Painting
Price
$
Description

$180
'Lilies on Black'
32cm large porcelain fluted edge plate
Flowers painted traditionally. Background finished with black lustre, dot-work and texture with gold detailing.




$180
'Habitat' Reef Fish
27cm Royal Dalton plate
Fish are painted traditionally and scene finished in multi-layered lustres. Outer edge of design framed with lustre, gold dots and texture paste texture. Rim finished with gold.


$95
"Shells on Lustre"
10cm porcelain box
The penned seashells are highlighted with metallic paint, backed with dark blue layered lustres and mother of pearl.

$60
Blue Forget-me-Nots
9cm high miniature Dresden milk jug
Painted Traditionally and finished with gold detailing.

$180
'Inspired by Reef'
31x12cm porcelain fluted edge oblong tray
Fish painted traditionally; background finished with layered lustres; texture paste used for reef area; plate edge finished with gold.

$50
Cherries'
19.5 cm round porcelain plate (with hanging holes). Fruit painting traditionally. Finished with dark red grounding, raised paste-work and gold.

$105
Blue Leschenaultia
10cm oval footed porcelain box. Flowers painted traditionally, textured metallic painted side and finished with burnishing gold.
featured piece
'Inspired by Country' North to South
30cm large round porcelain plate
Featuring the flora and fauna of Western Australia, from the Kimberley & Pilbara region represented on the top half of the plate. Progressing down to the lands of the Great Southern with the south coast shown at the bottom of the plate..
Flora and fauna represented on the plate is recorded in text in a circle on the reverse of the plate.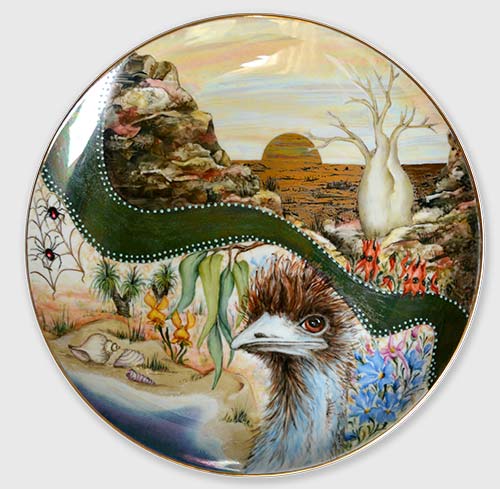 $180 - See More details and larger image.
---
SHIPPING AND PAYMENT
All prices shown are in A$ - Australian Dollars.
Please contact me for a shipping quote using Australia Post. and to arrange payment.
Unfortunately I do not take credit cards and am unable to process overseas orders..