GUEST ARTISTS
This page features work by some very talented Australian china painters.
An active community of porcelain artists exist in Perth and regional Western Australia, shown are some of my favourites pieces.
BRENDA CAELLI
Brenda is an artist based in Ravensthorpe on the south coast of Western Australia. Her paintings of local flora and fauna are regular prize winners at porcelain exhibitions.
Shown below is a variety of her innovative subject matter and designs....
---
BRENDA HENDERSON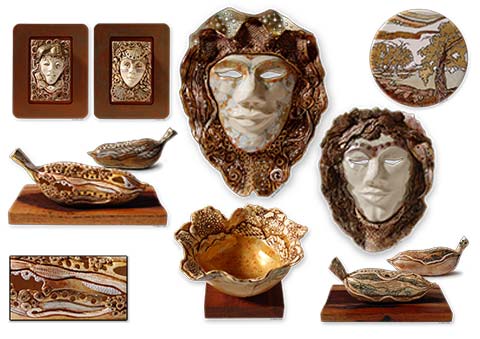 Brenda produces some wonderfully different work - from intricate design to her distinctive masks. Shown above sculpted boab nuts, bowl, tiles and masks.
To read more about Brenda follow this link to a feature page about Brenda on the WA Guild of China Painters website.
---
HEATHER TAILOR
Heather is an internationally recognized author, teacher and artist. Her knowledge and expertise with lustres is second to none and her work remains eagerly sought after.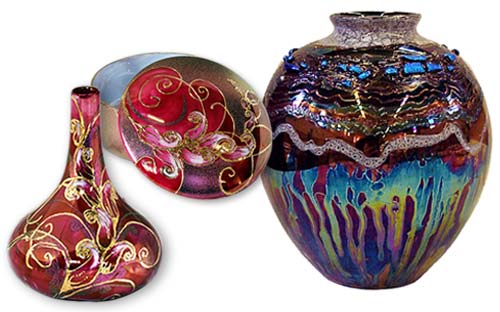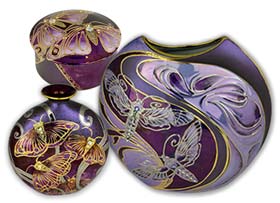 Visit the links page for a link to Heather's website.
---
GLORIA PAXMAN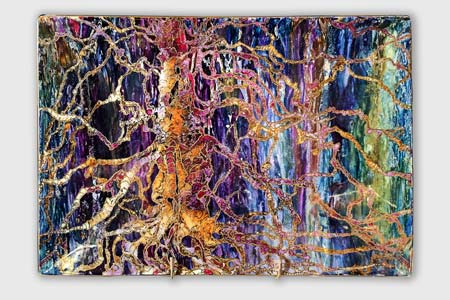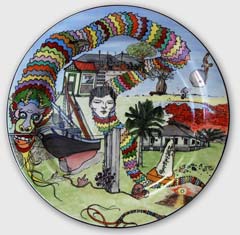 Shown are two pieces by Perth based artist Gloria Paxman. Titled 'The Old Tree' the tile shown above depicts an intricately twisting tree created using various texture and techniques which sit upon a background of striped, coloured lustre. This beautiful piece was one of the best exhibits at the 2019 WA Guild of China Painters exhibition. The piece shown at right is from the Guild's 'Collectables' and celebrates the Broome WA Shinju Matsuri festival.
---
PENNY MUELLER

Shown are two pieces by Penny. Above a delightful wall plaque titled 'Town.' The town buildings are created from intricately hand painted glass pieces. The second piece, below, is a dish painted with bolts of cloth. Two beautifully painted pieces by this innovative artist!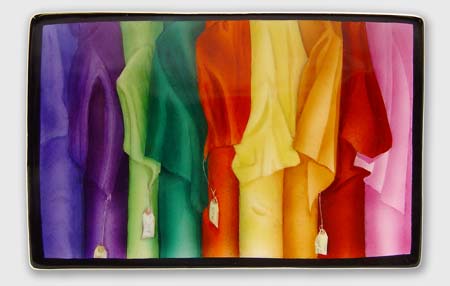 ---
TRIXIE EMERY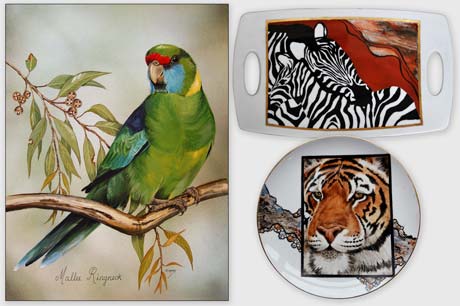 Now based in South Australia, Trixie Emery is a frequent visitor to Western Australia where she has many friends and shares her considerable knowledge with other painters.
---
For more examples of work by local porcelain artists visit the website of the W.A. Guild of China Painters, www.chinapainterswa.asn.au.
If you wish to contact any of the artists featured on this page, contact me quoting the artist's name and I will forward the message

All Photographs © A Blake