This website aims to provide up-to-date news, events and topics of interest to china painters and all who appreciate the art. Workshops and teaching opportunities of special interest to painters from the Western Australia region will be featured. Have a query please contact me...
Artisans have been decorating porcelain for centuries.
To complete a design, pigments, texture products, lustres and various precious metals can be applied to white porcelain - the china painter's canvas. After each application the piece is kiln fired up to 850°C. At this temperature the glaze melts sufficiently to absorb the paint leaving pieces that are both durable and permanent.
Kiln-fired china painting produces enduring works ready to become the collectable art of tomorrow.
---

To view recent work visit the Main Gallery page. From the Main Gallery you can find links to galleries arranged by subject (as shown below).
Gallery 2 : Architecture/Scenes
---
RECENTLY ADDED
Report on the recent APAT exhibition held at the Kodogo Gallery in Fremantle. See Article.
Article about the naming and soon to open new WA Museum. See News Page article...
A Sèvres pot-pourri vase from a series of articles featuring outstanding porcelain and glass pieces displayed at London Galleries and Museums. See News Page...
Article and photos from the March, 2020 Albany Porcelain Art Group's workshop with South-Australian based artist Trixie Emery. The subject was the Australian Cassowary. This very successful workshop was attended by both city and rural painters who tackled the difficult subject extremely well. See News Page article...
---
NEWS
Porcelain Exhibition Kidogo Gallery Fremantle
The Australasian Porcelain Art Teachers Association WA Branch held an exhibition of porcelain art from 4th to 10th October at the Kidogo Gallery in Fremantle. See News Page for more details.
Opening of the New WA Museum Boola Bardip
This wonderful new facility is due to open on Saturday 21st November, 2020. Work from members of the WA Guild of China Painters and APAT is amongst the porcelain art acquired by the Museum for display. Read News Page article.
Obituary - Joan Kent
Local china painters and artists were very saddened to receive the news that Joan Kent of Busselton, WA had passed away in late May. See News Page article.
For other news and events visit the News Page...
---
2020 UPCOMING EVENTS
21 Nov
Opening of the new WA Museum Boola Bardip, Perth Cultural Centre
5 Dec
WA Guild of China Painters
Christmas Meeting 1:30pm
For details visit Calendar and Events Page
---

Shown below - Sèvres porcelain inkstand c. 1758-59
This stunning Sèvres porcelain inkstand was a gift from Louis XV of France to his daughter Marie-Adelaide. It was made by Sèvres c. 1758-59 and is on display at the Wallace Collection Museum in London UK.
This feature forms part of a series about outstanding porcelain and glass exhibits I had the great pleasure to see while in the UK last year. read more and see images......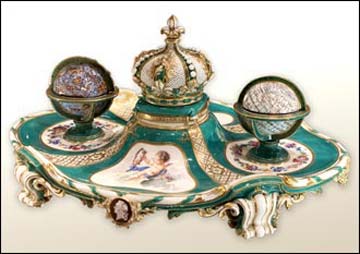 ---