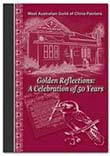 'GOLDEN REFLECTIONS:
A CELEBRATION OF 50 YEARS'
by Anne Blake & Kaye Maclean
A history of the West Australian Guild of China Painters from 1964 to 2014 (now known as the Porcelain Artists of Western Australia Inc).
The WA Guild had a rich history, being the first Guild for china painters established in Australia. Its founding president, Amy Lakides, promoted the art by showcasing more than 100 pieces of her hand-painted china, firstly in the north-west of Western Australia and then the eastern states and overseas.
The book has over 140 pages and contains many beautifully coloured images of hand-painted china produced by Guild members. The story of the Guild is traced from the early china painters of the 1900s, through to the foundation of the Guild in 1964 and the progression of the organisation to 2014. Included also is a list of all known members and office bearers.
The book retails for $25, plus postage and can be purchased by contacting me or alternatively download an order form and follow the directions given.
Shown below: Authors Anne Blake and Kaye MacLean
with Hon Mr Richard Court and current Guild President Heather Tailor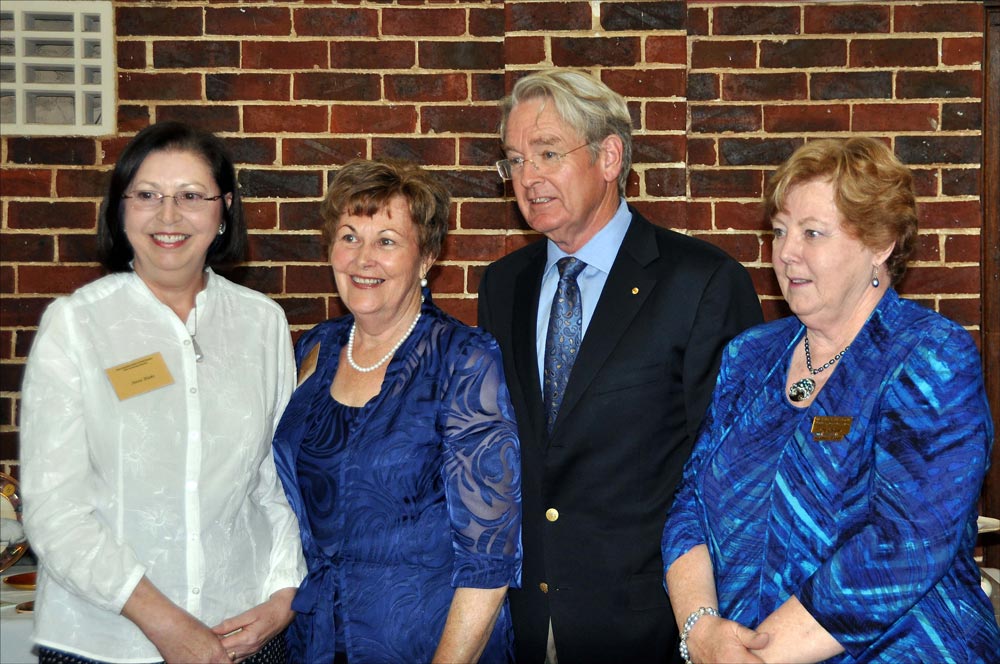 ---
THE REUNION & BOOK LAUNCH
On Friday 2nd May, 2014 past and present members of the Guild met for a special afternoon tea to celebrate the Guild's 50th Anniversary. Held at the Guildford Town Hall, the event was staged against the backdrop of the 2014 Annual Exhibition exhibits and displays which had been set up the day before.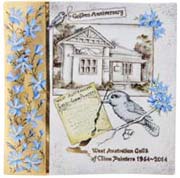 Invited Guests were presented with a golden souvenir gift pack on arrival containing a commemorative brochure. Many former members were reacquainted with friends from earlier days and comments were made about changes in china painting designs since the late 1900s. Special presentations were made to two foundation members from the first meeting in 1964 - Mavis Bell and Georgie Dwyer and also to two members who joined the Guild in its foundation year - Heather Tailor and Adelphe King.
After a period of time for past and present members to catch up with old friends the proceedings moved to the launch of the history book 'Golden Reflections - a History of 50 Years'. The book was officially launched by former State Premier, Hon Richard Court AC.
Mr Court, who was accompanied by his wife Jo, then enjoyed a tour of the exhibition showing particular interest in the special '50 Years of China Painting' display which was staged as a special event for the celebration. Many artists and members loaned pieces from their personal collections for the display and with over 70 exhibits it was one of the best displays of porcelain art seen in Western Australia and received considerable comment and interest by visitors to the main exhibition.
shown above: Nostalgia plate painted by Anne Blake
(purchased by the Guild for the 'Collectables')
Shown below sample pages from the West Australian Guild of China Painters' book 'Golden Reflections: A Celebration of 50 Years' written by Anne Blake & Kaye Maclean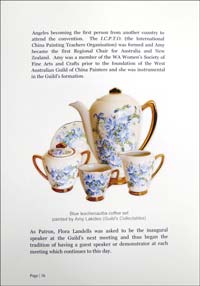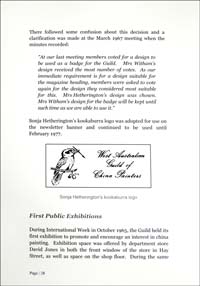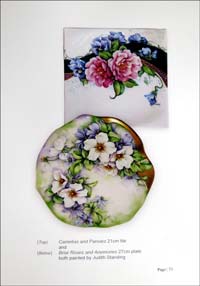 ---
shown below: Foundation Members of the Guild
from left to right - Mavis Bell, Adelphe King and Georgie Dwyer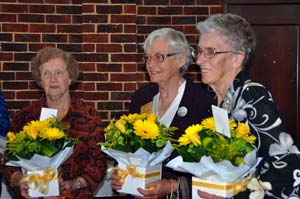 ---
shown below: past and present members enjoying the exhibition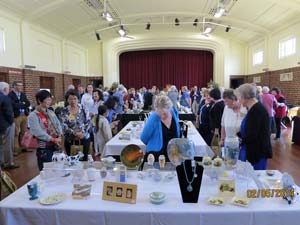 ---
shown below: Kaye MacLean (speaking) and Anne Blake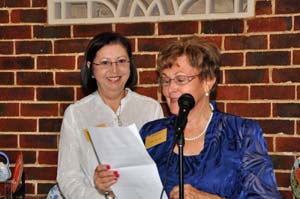 ---